Keffiyeh - a traditional headdress worn by Palestinian men (and at times women). Originated back in 3000 BC. At that time the high priests of ancient Babylonians and Sumerians wore a Keffiyeh to distinguish their rank or honor. A tradition that was soon adopted by the local farmers, looking for a way to protect their head from the high desert heat, sun, and winds of dust and sand. While its outreach extended to other parts of the world, the Keffiyeh remained as a symbol of rank in Palestine. However, in the 1930s, the Keffiyeh became a national symbol, after the...
---
Do you often carry a shemagh scarf? If you carry to beat the heat and dust in an outdoor activity, then you must wash it on a regular basis. Otherwise, it will become the breeding place for bacteria and germs. Why take a risk? It is advisable that you wash your shemagh at least once in a while in case you don't use it regularly. You may be wondering why it is so important. Why do you need to wash your scarf all of a sudden? We have reasons, because if you don't find out How to Wash a shemagh, then you may...
---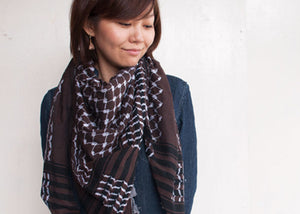 One of my favorite & most used pieces of travel gear. The Shemagh or Keffiyeh is an incredible multi-use essential tool when traveling. I always have one with me. The Shemagh (pronounced "shamay" or "schmog") is a soft piece of woven cotton cloth, kind of like a giant heavyweight bandana. You can also think of it as a smaller (yet thicker) sarong. You may recognize it as a traditional headscarf in many Arab nations. Unfortunately, ignorance in the world runs rampant, and because of this the Shemagh often gets a bad rap. Once you start using one though,...
---
It's really just a way to keep the sun off one's face and neck, yet became, for some, a symbol of Palestinian nationalism. Climate, history, and religion conspired to turn a small square piece of cloth into a powerful symbol. But at its core, the kaffiyeh – the square head scarf commonly worn by Arab men – was and remains simply a way to protect the head and neck from the blazing desert sun. The word itself simply means "from the city of Kufa,"on Iraqi town on the Euphrates River. The earliest kaffiyehs were likely made of wool. Later, when cotton arrived...
---
The keffiyeh brings about a true cultural heritage that cannot be taken away. Worn in mostly arid regions, the keffiyeh was traditionally used to protect people from sunburn, dust and sand. Nowadays, those who wear it do so under the mantle of the Palestinian cause. Here are 8 things you should know about the keffiyeh: The distinctive woven checkered pattern may have originated in ancient Mesopotamia, as a representation of fishing nets or ears of grain This is still a matter of debate, though. Keffiyehs are made of a mix of cotton and wool, which facilitates quick drying Keffiyehs were traditionally worn...